In a world where convenience often trumps vitality, the quest for a healthier, more active lifestyle can seem like an uphill battle. However, there's a revolutionary solution gaining momentum – the electric bike, or as it's commonly known, the e-bike. Beyond being a mode of transportation, e-bikes are becoming synonymous with a dynamic and health-conscious way of living. Join me on an exploration of why e-bikes are the key to unlocking a healthier, more active lifestyle, from the morning commute to the weekend adventures.
A Healthy Way to Start the Day
The morning commute, often seen as a necessary evil, can be transformed into a refreshing and health-boosting ritual with the help of an e-bike. Picture this: instead of being stuck in traffic or crammed into a crowded subway, you're cruising through the streets with the wind in your hair, courtesy of your trusty e-bike. The pedal-assist feature ensures that you're not breaking a sweat before your workday even begins, making it an ideal choice for those who want to arrive at the office feeling energized, not exhausted. Also, an e-bike for the morning commute is a game-changer for those who want to integrate physical activity into their daily routine without the intimidation of a full-fledged workout. The pedal-assist function allows riders to control the level of exertion, making it suitable for all fitness levels.
E-Bikes as Active Transportation
E-bikes transcend the boundaries of mere commuting, evolving into a paradigm of active transportation that seamlessly integrates into the fabric of daily life. In the bustling rhythm of city living, where time is often a scarce commodity, e-bikes emerge as the catalyst for efficiency and well-being. Imagine effortlessly gliding through the urban landscape, weaving through traffic, and arriving at your destination invigorated rather than fatigued. E-bikes redefine the concept of active transportation by seamlessly blending the practicality of commuting with the joy of physical activity.
These electric steeds are not confined to the confines of a daily routine; they unlock a world of possibilities for those seeking a healthier, more active lifestyle. Need to grab groceries? Forget about wrestling with shopping carts or juggling overloaded bags on public transportation. With an e-bike, you can effortlessly cruise to the local market, all while relishing the fresh air and sunshine. The basket or cargo racks equipped on many e-bikes make it a practical and sustainable choice for running errands, transforming mundane tasks into opportunities for light exercise.
Moreover, e-bikes act as a catalyst for reclaiming the lost art of leisurely exploration. No longer confined to the limitations of traditional bikes, e-bikers can venture further, exploring hidden gems within their cities or venturing into the outskirts with ease. Picture embarking on a spontaneous weekend adventure, gliding along scenic trails or coastal routes, powered by the silent hum of the electric motor. The pedal-assist feature ensures that the journey is not a daunting physical challenge, but a delightful experience, allowing riders to savor the surroundings and relish the journey itself.
What sets e-bikes apart is their ability to adapt to diverse terrains and purposes. From city streets to off-road trails, these electric companions are equipped to handle a spectrum of environments, providing users with the freedom to tailor their rides to their preferences. Whether it's the daily commute, a leisurely ride through the park, or a challenging off-road escapade, the e-bike becomes a versatile companion, responding to the varying demands of an active lifestyle.
More Than Just Pedaling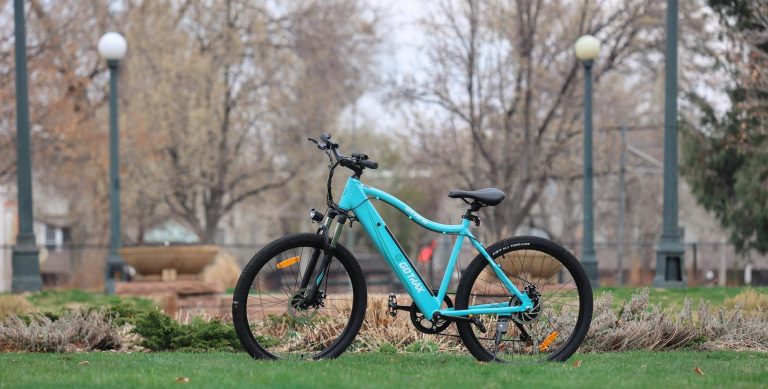 The health impact of e-bikes transcends the simple act of pedaling, offering a multifaceted approach to well-being. While the cardiovascular benefits of cycling are undeniable, the e-bike experience is more inclusive, catering to individuals at various fitness levels. The pedal-assist feature ensures that riders can control the intensity of their workout, making it an accessible option for those with different fitness goals and abilities. Beyond the physical realm, regular engagement with e-bikes has been linked to notable improvements in mental health.
The rhythmic motion of pedaling, combined with the outdoor experience, has a therapeutic effect, reducing stress and enhancing overall mood. E-bikes become a conduit for mindfulness, allowing riders to disconnect from the hustle and bustle of daily life and connect with the present moment. Furthermore, the convenience of e-bikes encourages consistent physical activity, fostering a sustainable and long-term commitment to a healthier lifestyle.
The positive impact isn't confined to individual well-being alone; it extends to the social sphere. Group rides, shared adventures, and the growing community of e-bike enthusiasts contribute to a sense of camaraderie and shared purpose. In choosing an e-bike, individuals aren't just opting for a mode of transportation; they are embracing a holistic approach to health that addresses both the physical and mental dimensions of well-being. It's not just about pedaling; it's about pedaling towards a healthier, happier, and more connected way of life.
Pedaling Towards a Greener Future
By choosing an e-bike as your mode of transportation, you're not just making a personal health decision; you're actively contributing to a greener future. Unlike traditional combustion-engine vehicles, e-bikes produce zero emissions during operation. This translates to a significant reduction in air pollution, a crucial step in combating the adverse effects of urban smog and greenhouse gas emissions. The batteries that power e-bikes are becoming increasingly efficient and environmentally friendly, with advancements in technology paving the way for sustainable energy sources. Furthermore, the minimal ecological footprint of e-bikes extends to their manufacturing process. Compared to the resource-intensive production of automobiles, the construction of e-bikes has a considerably lower impact on natural resources. As we collectively pedal towards a greener future, e-bike enthusiasts become environmental stewards, advocating for sustainable mobility solutions that prioritize the health of both individuals and the planet. It's not just a ride; it's a conscious choice to reduce our carbon footprint and leave a positive impact on the world we call home.
The e-bike is a unique and revolutionary tool in the pursuit of a more active and healthy lifestyle. From the morning commute to weekend adventures, e-bikes offer a dynamic way to integrate physical activity into daily life. With benefits ranging from improved cardiovascular health to a positive impact on mental well-being, the e-bike is more than just a mode of transportation – it's a lifestyle choice. So, saddle up, feel the breeze on your face, and let the e-bike be your key to unlocking a healthier, more active lifestyle.
Related Post: Top 5 finest tranny tube worth exploring